"Chile definitely stole my heart. With its beautiful landscapes and with its super friendly and open people.
The Chileans enjoy their lives and display a deep relaxation that one first needs to get used to. They are very comfortable and avoid any kind of stress, which is the absolute opposite of Germany where I come from. Nevertheless, the Chileans are very helpful and outgoing.
First I must say that when I thought about being an Au Pair abroad, I imagined having to take care of one or two children. In the end, I lived with a single mother and her 5 children. I know, 5 children?! Sounds really exhausting at the beginning.
However, I thought: "so what!", I will try it and take on the challenge. Finally, my Au Pair stay turned out completely different than I imagined it.
In the beginning, I was the new one in the family who could not speak much Spanish and who was rather young with only 18 years. Therefore, the children obviously tried to test my boundaries, which was not easy for me. Especially since I did not know the children well and I lacked on language skills. So, I tried with my hands and feet to establish some rules.
However, I must say that I was welcomed with open arms into the family and that I immediately felt comfortable in my new surroundings. I think it definitely helped that half of the family spoke English to me in the beginning and my host mother even knew some German.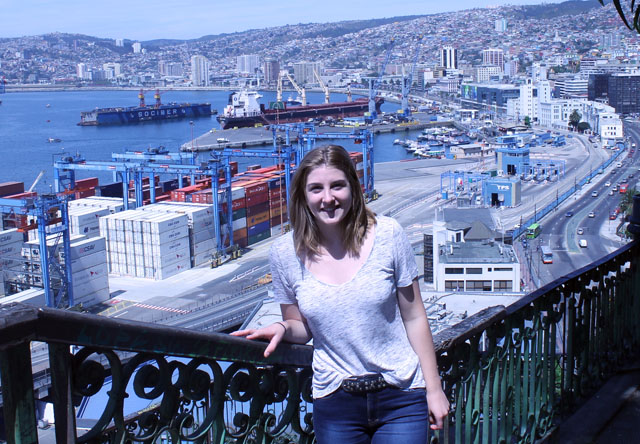 Step by step my Spanish improved. The youngest child in the family became my personal Spanish teacher and she tried every day to teach me new vocabulary. Because of that, I was finally able after some time to communicate with the children in Spanish. And suddenly they accepted me since I was able to have proper conversations with them.
One would imagine it very differently, but I actually did not have much work with the five children. I was mostly in charge of the smallest. The bigger ones were rather independent and I only had to remind them of certain things. Therefore, I was able to spend much time with the little one. We often painted, danced, played with the dogs, or ate ice-cream together. Additionally, we went on some playground visits and pool parties could not miss either. My work became increasingly more fun with every day that went by.
Further, I had enough time to discover Santiago, meet friends and do short trips on the weekends. I travelled as well with my family in the vacations to the northern city La Serena and to the mountains. I developed a special connection with the children through this holiday. We laughed more together and undertook different activities. The children became more open and accepted me completely as a new member of the family. I already felt like a bigger sister. And when they whisper you "te quiero" (I love you) and do not want you to leave, you know that you have done everything right.
Since then, it does make me a little sad that I have to leave this family, I took into my heart.
Therefore, I would recommend to be an Au Pair to everyone who wants to take the chance to discover a new culture and people. I advise them to not back down when there might be more children in the family."
Here you can find more information about the Au Pair program in Chile.